History of the Flying Pig


including the origin of "HAM" radio and startup of FPqrp



But first a pig joke...

A guy is stopped at an intersection when a farm truck comes whipping past him. As the truck takes the corner, a pig comes flying out and lands on the road. The driver of the car puts the pig in his car and takes off after the farm truck. As he's speeding along trying to catch up with the truck, he goes through a speed trapand gets pulled over. The driver explains to the police officer that he's just trying to return the pig. The officer says, "Well, you'll never catch it now, you should just bring the pig to the zoo." The driver agrees, and off he goes.

The next day, the cop is patrolling, and who should he see drive by but the same guy. He still has the pig in the passenger seat, but now the pig is wearing sunglasses and a baseball cap. The police officer pulls the car over, and confronts the driver. "I thought I told you to take that pig to the zoo!"

The man replies, "I did. We had such a great time that I'm taking him to the ball game today." more jokes



---
Some general history from www.porkopolis.org


1790
Cincinnati (aka: Porkopolis) gets its name when the 2-year-old town of Losantiville on the Ohio River is renamed by the Northwest Territory's first governor Gen. Arthur St. Clair, who calls it Cincinnati after the Society of Cincinnati formed by officers of the Continental army at the end of the Revolution.

1818
Pioneer pig sticker, Elisha Mills opens Cincinnati, Ohio's first slaughterhouse. Cincinnati begins packing pork in brine-filled barrels. Salt pork becomes a U.S. food staple, and within a decade, the city will earn the nickname "Porkopolis.".

1825
Buffalo, NY, is the short-lived meat-packing center of the U.S. as the Erie Canal makes it a central shipping point. It will soon be replaced by Cincinnati, then Chicago.

1829
Cincinnatians and the world begin to regularly refer to the Ohio meat-packing town by the nickname "Porkopolis.".

1839
The musical instrument termed the "Porco-Forte" is invented in Cincinnati, Ohio. It is a keyboard instrument fashioned after a piano, but with a hammer action whereby pigs tails are pinched as each key is struck, permitting the player to produce a gradation of squealed notes depending on which keys were struck and how hard.

1861
As the Civil War rages in the U.S. and demand for pork and beef staples escalates, Chicago, benefiting from superior rail transportation, replaces the "Porkopolis" of Cincinnati as the leading meat processing city in the US.

1913
Oct. 7 Henry Ford begins operation of an "automobile assembly line" at the Ford Motor Company plant in Detroit, Michigan. Ford and engineer Clarence Avery credit their observations of the dis-assembly lines used by Cincinnati and Chicago pork packers as a major inspiration. By simply reversing the process, Ford cut the time required to assemble a motorcar from 12.5 down to 1.5 hours.

1921
In the "Porkopolis" of Cincinnati, a local auto parts producer Powel Crosley, moves his ham radio station 8CR transmitter from his house to his factory and has it licensed under the call letters WLW. Crosley will organize Crosley Radio Corp. in 1923 and the station will become a 50,000 watt voice of the Midwest?s pork and corn belt.

1945
Harry S. Truman, a former Kansas farmer, is elected 33rd U.S. President. Reflecting on his position, he states "No man should be allowed to be the President who does not understand hogs, or hasn't been around a manure pile."

---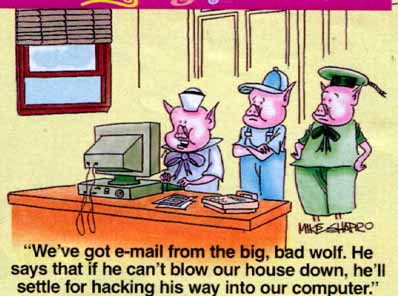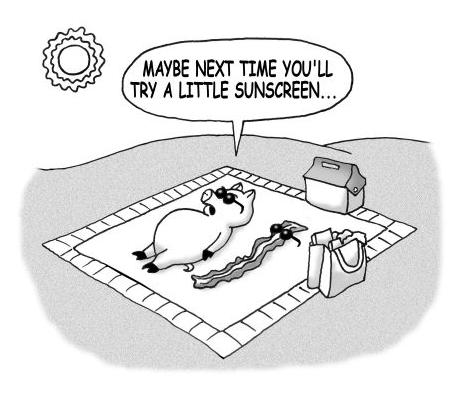 ---
Ramblings


RABBLE, n.: In a republic, those who exercise a supreme authority tempered by fraudulent elections. The rabble is like the sacred Simurgh, of Arabian fable -- omnipotent on condition that it do nothing. (The word is Aristocratese, and has no exact equivalent in our tongue, but means, as nearly as may be, "soaring swine.").
THE DEVIL'S DICTIONARY (1906) Ambrose Bierce (1842 – 1914) U.S. writer and journalist.

Pigs flie in the ayre with their tails forward...
A SHORTE DICTIONARIE FOR YOUNGE BEGYNNERS, (1553).John Withals

Don't discount flying pigs before you have a good air defense.
Attributed to: jvh@clinet.FI (ca.1996).

Pigs might fly, but they are very unlikely birds.
Popular euphemism, 1620's.

"The time has come," the Walrus said, "To talk of many things: Of shoes and ships and sealing wax, Of cabbages and kings, And why the sea is boiling hot, And whether pigs have wings." THROUGH THE LOOKING-GLASS, (1872).
Lewis Carroll (1832 – 1898), English writer, mathematician.

The first pig to fly in an aeroplane was taken up for a joyride in a biplane by Lord Brabazon, holder of the first pilot license in Britain.
"The TIMES", London, (1909).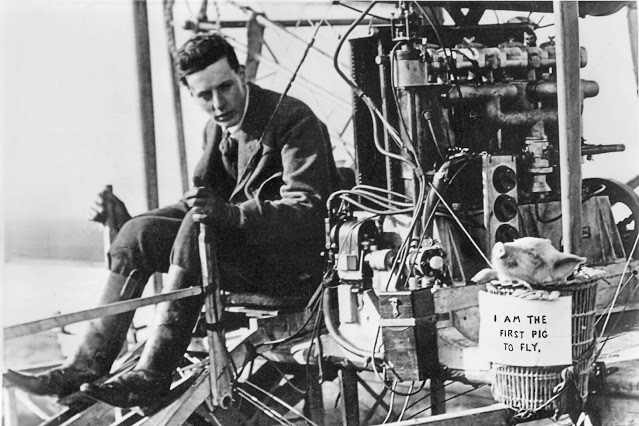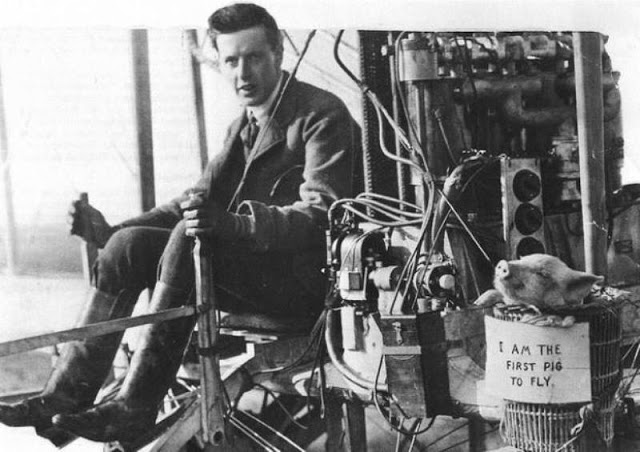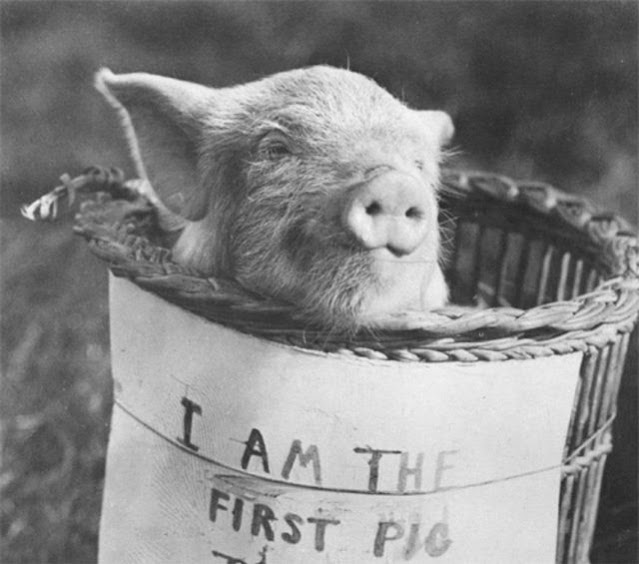 "Owl," said Pooh, "Could you fly up to the letter-box with Piglet on your back?" "No," said Piglet quickly, "He couldn't." Owl explained to Pooh about the necessary Dorsal Muscles. Piglet hurriedly added that he had been getting much bigger lately, "so it's no good thinking about it."
THE HOUSE AT POOH CORNER, (1928). A.A. Milne (1882 – 1956), English author.

Pork, the other white meat. Leaner. Healthier. Were going where no pig has gone before, come along. Take that one small step... Buy pork!
ADVERTISEMENT, (1994). National Pork Producers Council, American Trade Organization.

I have myself a poetical enthusiasm for pigs, and the paradise of my fancy is one where pigs have wings. But it is only men, especially wise men, who discuss whether pigs can fly; we have no particular proof that pigs ever discuss it.
FANCIES VERSUS FACTS, (1923). G.K. Chesterton, (1874 – 1936), British author and critic.

"Just about as much right," said the Duchess, "as pigs have to fly."
ALICE'S ADVENTURES IN WONDERLAND. Lewis Carroll (1832 – 1898), English writer, mathematician.

If you are sweating too much before a flight, you surely haven't asked enough questions. If you are not sweating just a little during the flight, you may not have been attentive enough. And, if you are not sweating out the answers with all the experts you can think of after the flight, you may never find that very beautiful pearl in all that pig litter.
Corwin H. Meyer, Grumman Aircraft test pilot, WWII.

I'm sure that the airlines would allow first-class passengers to travel to Europe or California in the company of their pigs, and I like to imagine the sight of the pairs of differently shaped heads when seen from the rear of the cabin.
Lewis H. Lapham, U.S. editor and writer.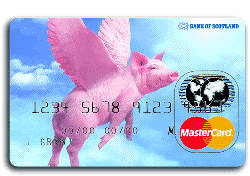 Don't leave home without it!